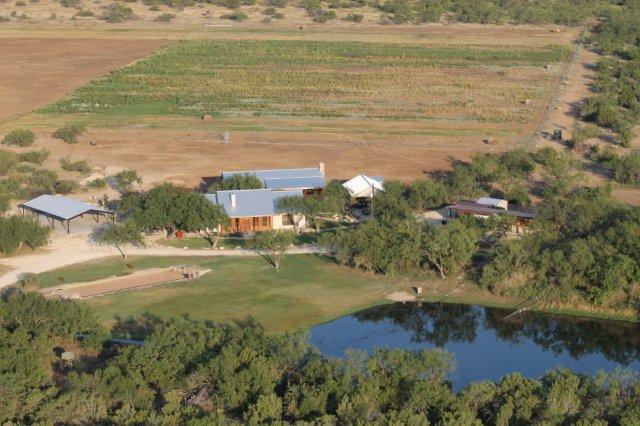 We offer first class accommodations, three mouthwatering meals per day, snacks, water and soft drinks. Basic cost is $325 per day to cover lodging, meals and guide fees. Adult guest fees are $125 per day. Kids under 12 are $50.
The price of lodging and meals is included in our pricing on fair chase hunts. Please see pricing. If a hunter does not harvest an animal, we charge $325 per day.
Depending on how big your group is, we offer a couple of options for lodging.
---

Paisano Ranch
For our larger groups, Paisano Ranch features 8 bedrooms with 25 beds, 10 private bathrooms, full indoor and nice outdoor kitchen. Front porch views include the fishing pond with large grass meadow and wildlife feeders to enhance viewing opportunities. Back porch views center on the food plot that attracts animals early in the morning and late in the evening.
Enhancing your stay, we offer a game room with pool table and large game table for cards and satellite television. Just off the game room porch we have a large fire pit ideal for a drink and swapping lies at the end of the day!
Learn more about Paisano Ranch
---

Ridgeview Ranch
For our smaller groups, Ridgeview Ranch features 3 bedrooms with 4 beds, 3 1/2 bathrooms and a full indoor kitchen. The house offers a game room and a satellite television.
The house is nestled within the 3500-acre ranch, so you literally in the middle of nature! Take the sights and sounds in while sitting around the fire pit or on the porch.
Learn more about Ridgeview Ranch
---